If you're an Asset Manager, Principal Electrical Engineer, Maintenance Manager, Supervisor or similar … chances are you're seeing costly failures in your plant.
That's why companies invest so heavily in electrical maintenance systems and teams—but all that investment goes to waste if your team isn't up to the task. So how do you prevent this scenario from happening?
By coaching them.
In this article, we'll explore the 3 main challenges Asset Managers face while maintaining electrical machines. Then we'll discuss how industry-leading factories and plants are addressing the issues.
If you want to jump straight in and learn about the EMKE coaching program for maintenance staff, click here:
[ VIDEO: Significantly Reduce Electrical Machine Failures Through EMKE Coaching – CLICK HERE]
Otherwise, read on …
1 – The Competence Of Your Electrical Machine Staff:
Do you feel like you have a skills shortage in your staff or contractors? Or that they have a bad attitude, varying skills, not enough knowledge or experience in the field?
If this rings true, it really gives you no peace of mind.
And you're not alone, either. We hear this commonly from the supervisors and managers in the industry.
Chances are your staff just don't have enough knowledge, and they also need more in-field experience.
As a result, you can FEEL the incompetence and lack of morale.
This then adds to the pressure that management are putting you under every day. You've got budgets to meet, and they need you to reduce this costly failures.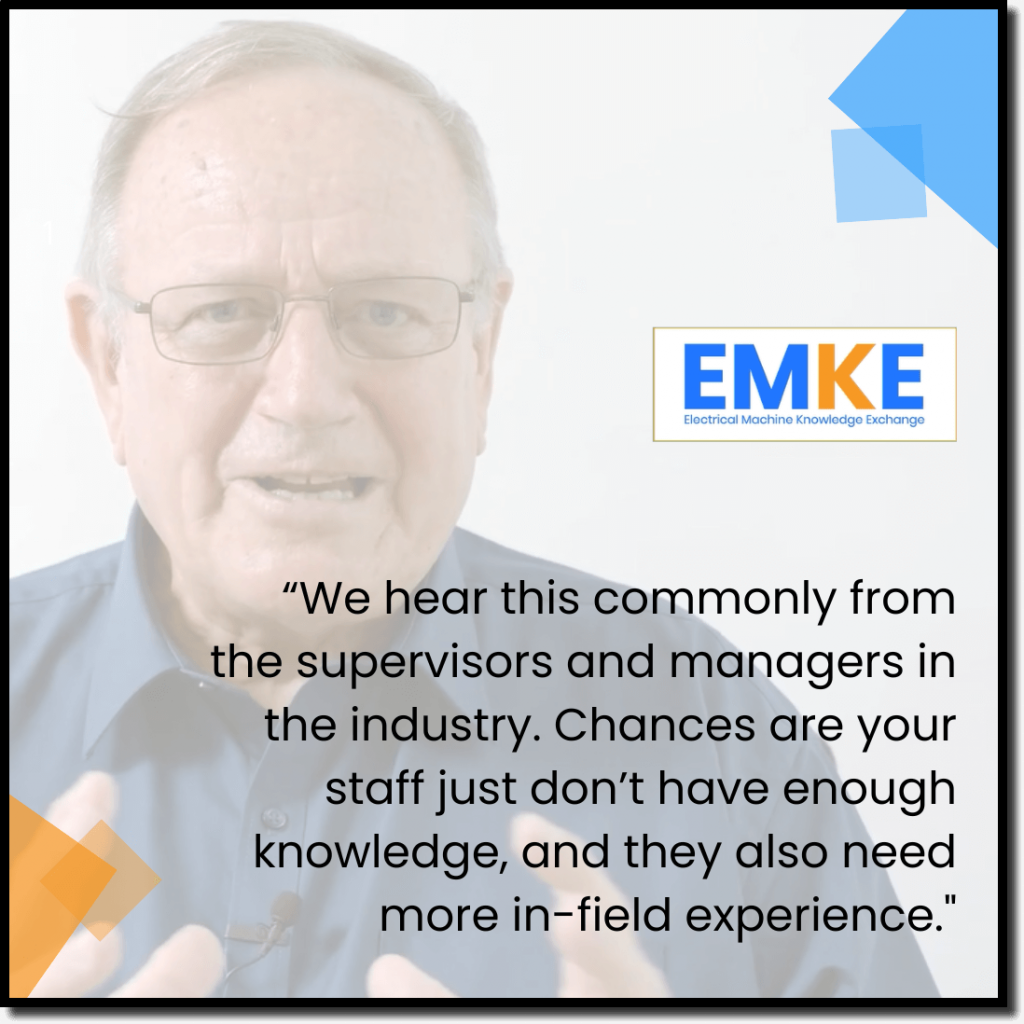 2 – Repeatedly Experiencing Electrical Machine Failures
If you experience costly electrical machine reliability issues on a repeating basis …
If you find yourself constantly fighting fires when things unexpectedly go wrong …
It becomes very difficult to stick to your plans. Or budgets.
Ultimately, this results in a stack of money being poured into repairs, over and over.
Regardless of whether you believe the issues are caused by the brand of motor, poor staff attitudes or bad contractors … You're still the one that has to report the "bad news" to management every time.
That's not pleasant.
Plus, if you have to get the plant re-instated by external contractors, your own staff never really get to learn from the experience or build plant knowledge.
So, later down the track, the same failure occurs and the cycle repeats.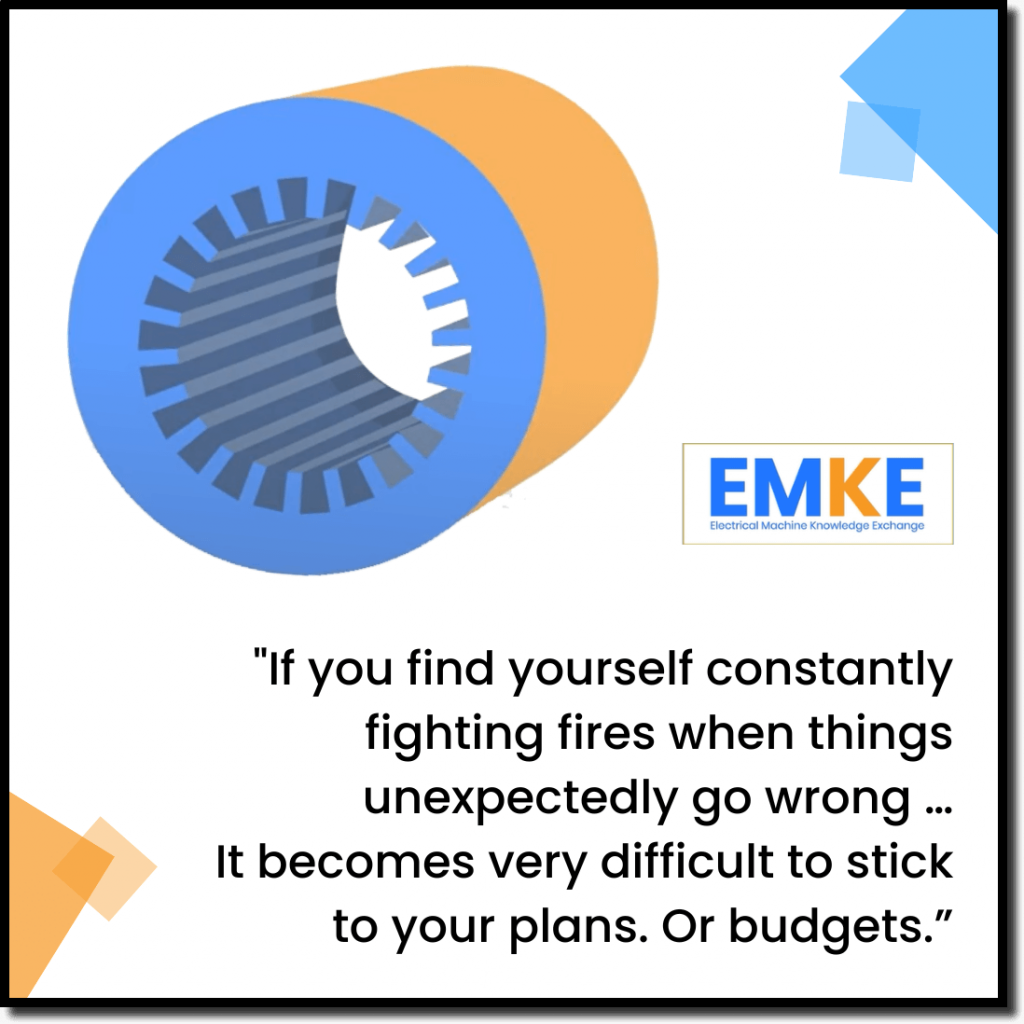 3 – Safe Work
Most Asset Managers have regulators watching their team for any safety issues.
Not to mention shareholders talking about safety.
Add to that – you're genuinely worried about the team that you are responsible for. Every time an electrical machine fails, there is risk of harm – especially in those "high-risk scenarios", right?
How Asset Managers Are Addressing The Challenges Through Coaching?
These challenges are real and common in our industry. The best way to address them is by coaching your staff.
Ongoing coaching of your staff will significantly reduce these changes.
Here are some of the impacts the industry's leading coaches will create:
Coaching your staff to be proactive
Coaching your staff to consider all possible failure modes
Coaching your staff to think like an engineer
Coaching your team to identify potential issues before they happen
Coaching your team to identify the root cause of failures
Let's dive deeper into the benefits …
The Benefits of Electrical Maintenance Coaching
As long as you are providing your staff with the right Electrical Machine coaching framework, and giving them both knowledge and experiential learning … Electrical maintenance coaching can help you to:
Significantly reduce the frequency and severity of machinery failures, thereby reducing downtime costs.
Improve the long-term reliability of your machines.
Improve safety in your workplace by reducing risk factors associated with electrical equipment failure, such as fire and explosion.
Enhance the effectiveness of corrective actions by increasing employee skillset in electrical maintenance activities. This can lead to improved performance in all areas related to machinery maintenance (e.g., mechanical).
But better still, here are some of the second-order benefits of coaching that you may not have considered:
Now that they are trained, your staff will have a new enthusiasm and confidence around the machines – which then has them more proactive in maintaining them.
Your team see you as a good leader who is always ready to help.
You don't have to rely on expensive external contractors, firmware, CAD, computerised controls or software solutions. As a result, you're able to exceed your budgets every month.
Every week you're actively building your plant knowledge. So new hires are able to quickly learn about your machines and how to maintain them.
With the right coach, you can confidently tell management that your team is being mentored by a leading expert in the industry. Much more effective then sending them to trade conferences (let's be honest, they are more for "entertainment" purposes, right?)
Oh … and those regulators and sharehold
ers – they'll stop asking so many questions too!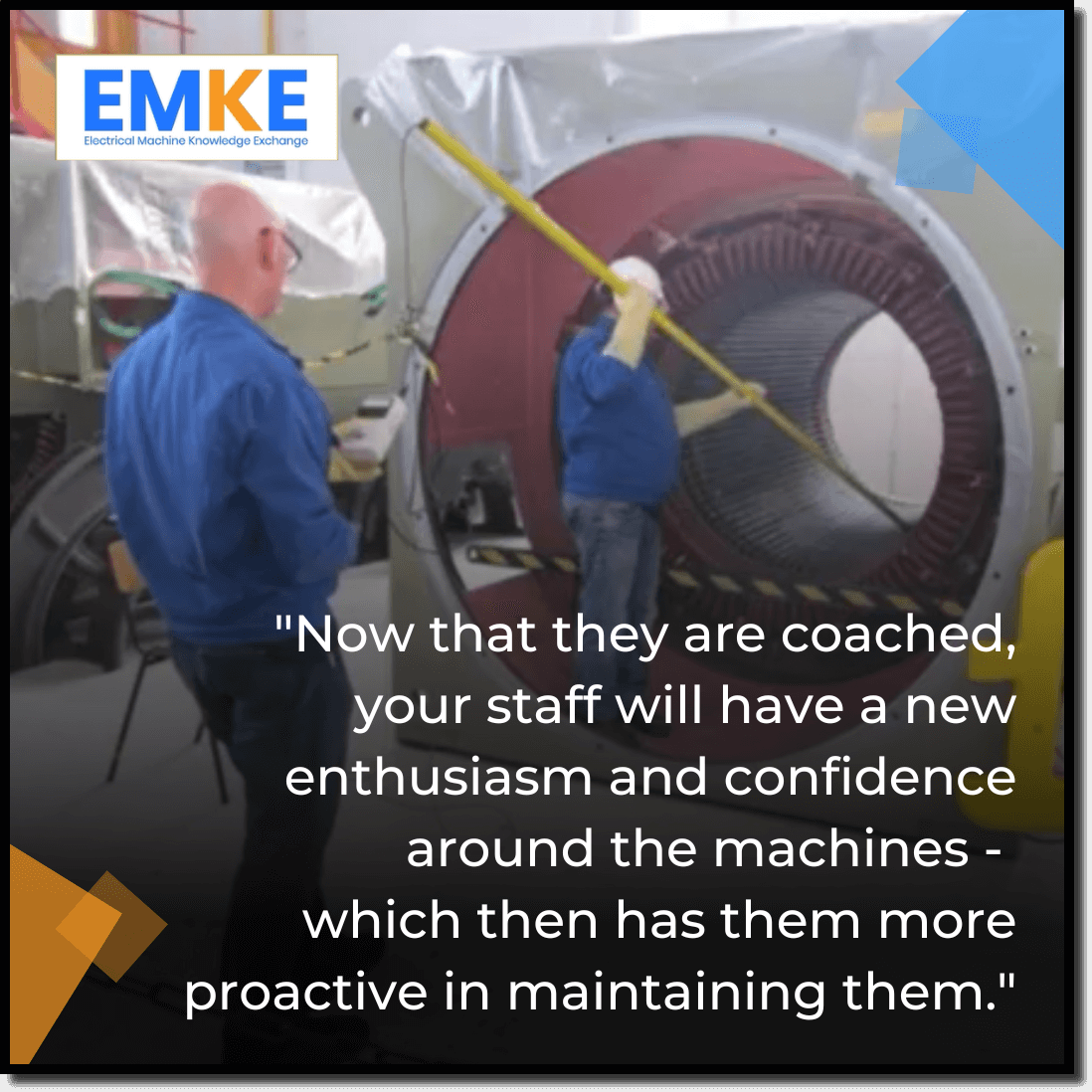 The Bottom Line (and improving it):
Investing time and effort in electrical maintenance coaching will pay off for your plant.
The more skilled your team is, the higher your productivity, with less breakdowns, reduced costs, happier management and clients.
If you're experiencing the 3 main challenges of Electrcal Machine maintenance in your team …
Coaching is a no-brainer.
Learn more about the EMKE coaching program for your maintenance staff, here:
[ VIDEO: Significantly Reduce Electrical Machine Failures Through EMKE Coaching – CLICK HERE]
Book Your Quick Call With Head Coach, Mike Davis
NEW LEAD FROM YOUR VISIONARY LANDING PAGE